CURRENT Bible studies
Mothers of preschoolers (MOPS)
MOPS is about...
Celebrating motherhood
Meeting needs
Making connections
Experiencing God's love ... through relationships and resources.
MOPS stands for Mothers of Preschoolers. MOPS exists to meet the needs of every mom - moms who are different in many ways, but who all share a similar desire to be the very best moms they can be! MOPS recognizes that the years from infancy to kindergarten are foundational in a mother-child relationship and are filled with unique needs.
MOPS helps moms through relationships established in the context of local groups like this one that provide a caring atmosphere for today's mother of young children. MOPS also encourages and supports mom through resources such as books and their website.
MEETING DATES AND TIMES
Our MOPS group meets on the first, third and fifth (when applicable) Wednesday of each month, from 9 - 11:15 a.m. during the school year. We meet every Wednesday during the summer at parks throughout the area.
Each of our meetings begins with a light breakfast, and features a speaker, a craft, and plenty of time to talk to other moms like you.
WHAT IS MOPS KIDS?
Our MOPS KIDS program provides care for children ages six months through kindergarten. Babies younger than six months are welcome to stay with their mother during the meeting. While mothers attend the MOPS meeting, the children enjoy a program designed to meet their needs. The children are divided into age groups and are involved in planned activities.
Please help us provide a wonderful experience for your children by adhering to the following guidelines:
Each mom and her child must be registered to attend MOPS so that we can provide appropriate staffing for each classroom. Click

to contact us.
Bring a change of clothes for your children (including socks) and at least three diapers if your child is not potty trained.
Label all items (including bottles and cups) with child's name.
For more information, please contact Trinity MOPS at
Monday evening ladies bible study
Bonnie Young leads a Bible study in the Church Lounge. Currently, the group is studying, "Sermon on the Mount" by Jen Wilkin. Questions? Contact Bonnie Young by phone or text at 586-350-3222
TUESDAY MORNING LADIES BIBLE STUDY
Meet to enjoy God's Word every Tuesday morning 9:30-10:45 a.m. in the Church Lounge. Led by Mary Hartman and Lila Tirsell.
Leader: Lila Tirsell, Mary Hartman
Wednesday morning men's bible study
The men's mid-week Bible study meets Wednesday mornings at 6 a.m. in the Community Center. The topic changes regularly. Study guide, provided. Please bring your own breakfast/beverage. Due to COVID, we will NOT have coffee to serve. Pat Anderson will lead the group.
Leader: Pat Anderson
SATURDAY morning men's bible study
The men's Bible study meets Saturday mornings at 7:30 a.m. It it currently meeting online. The topic changes regularly. Study guide, provided.
Leader: Brian Lanko,
Other Classes
Throughout the year, we offer or promote various workshops and classes. Those listed below are some that are offered regularly.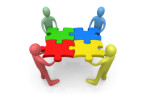 Living Your Strengths - We are fed the idea in our culture that to be acceptable we need to be well-rounded. Though that is the prevailing notion, a closer look shows how untrue it actually is. People who are really effective and really excited about life are generally those who have discovered what they do best and have found great ways to do it.

Lutheran Marriage Encounter - Marriage Encounter is a weekend experience designed to help married couples in good marriages communicate more intimately with one another in order to deepen and enrich their relationship. Check out God Loves Marriage for more details.

Retrouvaille - Is your marriage tearing you apart? Retrouvaille is a Christian peer ministry consisting of a weekend experience and six post-weekend meetings. For more information go to the Retrouvaille website.
GROUPS THAT SERVE
We have several groups that Engage God, Engage God's People and Engage the World in various ways at Trinity.
fellowship with seniors
Fellowship with Seniors is an opportunity for our senior members to socialize, hear from informative speakers and often play games during meetings. For more information, contact Ruth Schalk.
Health and human care ministry
The purpose of Trinity's Human Care/Health ministries is to engage and equip God's people to serve Christ at home, church and within the community. Existing ministry opportunities are identified under the banners of Human Care and Health Care. For more information, visit the Parish Nurse website.
Quilters for Lutheran World relief
The quilters complete quilt tops, pillowcase dresses and britches for those in impoverished countries around the world. If you like to sew, the group meets the third Tuesday of every month at 9:30 a.m. in the Community Center.
Women's league
The Women's League provides an opportunity for women to participate in activities to help grow her faith while demonstrating care to others. For more information, contact Deb Graham-Large.