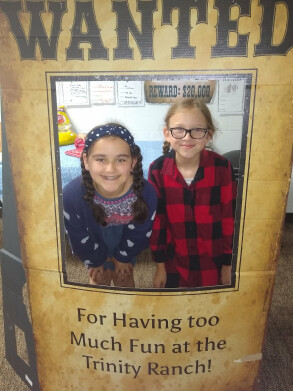 After reading the book, "Little House on the Prairie" by Laura Ingalls Wilder, the third graders celebrated with a Wild West party on the last Friday of school. Wild West day is a tradition in the third grade at Trinity, and the students enjoy the variety of activities that come with the day.
Wild West day has many elements that combine education and celebration. Third grade teacher Catha Huff said the students participated in writing, creative activities and even some computer games.
To start the day, students dressed up in their western wear or as if they were on the journey west in a covered wagon. Next, the students wrote about what they would pack on the covered wagon journey west. With limited space and resources, students had to determine what they needed to bring and if they had space for the optional items they wanted to take.
The students also created wanted posters of some of the most wanted book characters, and then wrote about why they are wanted. The students also played the computer game from the 1970-80s, Oregon Trail, and made decisions as a group to try to safely travel west with many decisions to make along the way.
"Many of the things we learned throughout the school year led up to the activities we completed on Wild West day," said Huff. "We read Trail of Tears about relocation of Native Americans to the western United States. We also visited the Troy Historic Museum where we made candles and learned in a one-room schoolhouse."
Huff said all of the activities were designed to teach the students compassion and understanding from multiple perspectives and points of view.