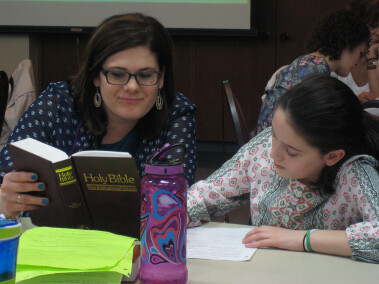 Navigation is a lost art. Gone are the days of map reading, compass using and point plotting. It's been replaced with a calm and soothing "re-routing….re-routing." We plug in the address and the GPS does the work. Sometimes we think Spiritual journey's should function like GPS - just plug in the end address and it does the work. And while the GPS might give us the best possible route - it only works if the data is up to date.
We are in a rapidly changing culture. If we are going to make it to the end, then we'll have to rediscover how to navigate. We'll have to rediscover how to deal with the ever changing data of life. The Next Generation Ministries of Trinity Lutheran Church are passionate about helping another generation of disciple makers navigate this thing called life. In all that we do, we aim to fix our eyes on Jesus, the compass of our faith [Heb. 12.1].
By increasing the number of spiritual conversations happening in households and by creating/fostering a partnership between family and church, we will see another generation of disciple makers infected and affected by the LOVE of God.
Camp Concordia -7th Grade Retreat
Camp Arcadia - 8th Grade Retreat