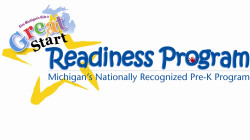 The Great Start Readiness Program (GSRP) has lifted most income guidelines for the 2020-21 school year. Most families will now qualify for this FREE Preschool Program! Call 586-463-8803 or email for more information.
It is a structured preschool program that uses Creative Curriculum.
We have two school day classrooms that run Monday through Thursday from 8:00 AM to 3:00 PM during the months of September through May with holiday breaks comparable to the school calendar. Childcare is available from 6:30 – 8:00 AM and 3:00 – 6:00 PM Monday through Thursday as well as 6:30 AM – 6:00 PM Fridays and holidays for $4.65 per hour.
We are happy to offer a special "Jesus Time" (age appropriate Biblical teachings) to our GSRP children from 7:45 – 8:00 AM and 3:00 – 3:15 PM Monday through Thursday at NO ADDITIONAL CHARGE.
Macomb County GSRP Remote Learning Plan
GSRP Covid Response and Preparedness Plan